Stichting Gids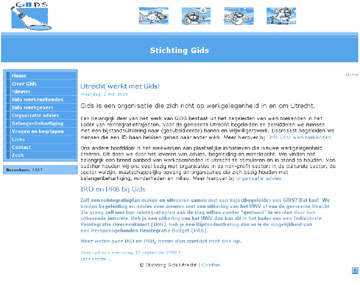 Stichting Gids (Gids Foundation) is an organisation that focuses on employment in and around Utrecht. A big part of their work consists of coaching people who are looking for a job. They stand out because of their non-commercial methods.
The foundation wanted a website they could easily manage themselves. They already had a logo and flyers with cartoons. They wanted the website to be completely in the colours of the logo and cartoons, white and several tints of blue. Michel de Vink and I based the design on that. We built a site with Mambo as a CMS (Content Management System), so the people who work at Stichting Gids can easily change the content of the website themselves and add new pages. The site was published in 2005. By now, their website is completely changed and rebuilt to meet modern standards.
The website can be found on www.stichtinggids.nl.