The Mix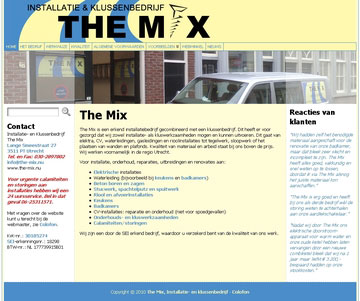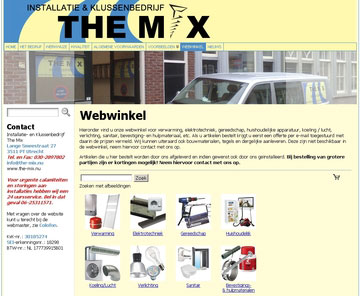 The Mix is a company for electric installations, plumbing, installation of kitchens and bathroom equipment and much more. They already had their own website, set up and maintained by founder and owner of the company, Simon Hesp. But he wanted to spend more time on his actual work. Also, some improvement needed to be done to the website.
So, The Mix searched for a webmaster who could use the text and pictures Simon made for his site, and improve the design, the clarity of navigation and content, and findability of the website, to attract new customers.


This is the previous website of The Mix.
Click on the picture to zoom in.Simon wanted to have a webshop and '360 degrees panorama pictures' of the workshop on the website.
I designed a 'fresh' website, with the most important information on the front page. This way, the site is clear to the visitor right away, and easy to find for Google and other search engines. For the design, I used the picture from the previous version of the website, and I used the company logo of The Mix.
Now, Simon simply calls or emails me with additions or changes: I am the webmaster of www.the-mix.nu.