Women's network UU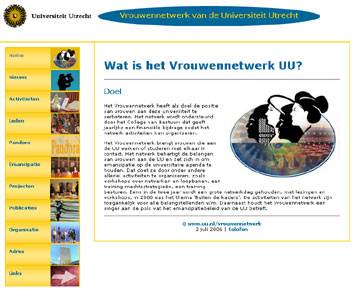 The Women's network of Utrecht University is an informal network of women (and some men) that work or study at Utrecht University. The network aims to improve the position of women at Utrecht University.
The network used to have an excellent site, with lots of interesting information, but the lay-out of the website was a bit old fashioned. They asked a designer to make a new design, and I did the technical part: I set the whole site up in php and css and edited and resized all the images.
This site can be found on www.uu.nl/vrouwennetwerk.
In the years previous to this renewal, I was the webmaster of the women's network. The site looked like this in those years: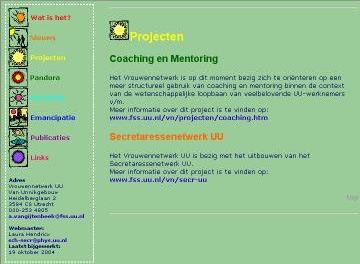 I did not make the desing of this version of the website, this was an existing website with an existing design, and I had to keep this design the way it was. I cleaned up the code of this site, made sure the lay-out was applied consistently throughout the whole website by using css and improving the code, and regularly added new texts.